Let us help drive your COPC standards. Contact us Today!
If you want to improve your company's customer service operations, you first need to measure them. At VirtuaTell, our main focus is how we can help you to measure the customer experience via our omni-channel feedback surveys. These surveys help you to measure your CX performance against COPCs standards and ensure you are providing the optimum level of service to your customers.
What are COPC Standards?
COPC Standards are a collection of performance management systems that enable businesses to measure and improve their operational activities that support the customer experience. Since they were introduced in 1996, COPC standards have acted as a benchmark for customer-based service operations.
COPC Standards provide stringent guidelines for customer interaction. Within a contact centre environment, companies must demonstrate they are up to the mark when it comes to service (the speed of the interaction from a customer perspective) as well as quality (whether the transaction was handled correctly on the first attempt).
Adhering to COPC Standards can offer a whole host of benefits to businesses across various sectors, including reduced costs, improved revenue, improved service and quality, and increased customer satisfaction.
And, with the COPC Family of Standards currently being used in over 70 countries, this is a truly globally accepted performance management system that sets the standards whilst driving a consistent industry vocabulary.
How can VirtuaTell Help Measure the Customer Experience?
Under COPC Standards, Customer Service Providers are analysed against a series of performance factors known as Key Customer Related Processes. To analyse levels of service, these KCRPs utilise metrics such as speed of answer, abandonment rate, escalation rate, contact resolution, sales, and volume.
Our innovative, automated, multi-channel, real-time customer satisfaction solution will allow you to collect and monitor customer feedback, enhancing your level of service, and allowing you to get the metrics that COPC require if you're looking to obtain certification.
We'll also help you to optimise response rates, delivering your feedback questions in a totally customer-focused way across multiple channels.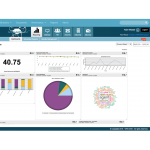 Once your data has been collected, we'll provide clear, meaningful reports that present your data in a way that is accessible and easy to understand to everyone within your organisation.
Of course, collecting data is fruitless if it doesn't allow you to implement meaningful change in response. At VirtuaTell, we make your feedback actionable, focusing on real-time feedback, using real-time alerts, response triggers, and data feeds into your other systems to show that you are responsive. This means we can give your customers feedback on how you responded to their feedback – increasing engagement and loyalty.
For more information about how we can help you maintain and measure COPC customer experience standards, please get in touch – we're always happy to help.
Have a Question? Contact us Today!